Scientists have developed a new device, which is much like skin itself and when worn, monitors heart and skin.
According to the researchers from Northwestern University and University of Illinois the medical device can quickly alert a person if they are having cardiovascular trouble or if it was simply time to put on some skin moisturizer. The small device, approximately five centimeters square, can be placed directly on the skin and worn 24/7 for around-the-clock health monitoring. The wireless technology uses thousands of tiny liquid crystals on a flexible substrate to sense heat. When the device turns color, the wearer knows something is awry.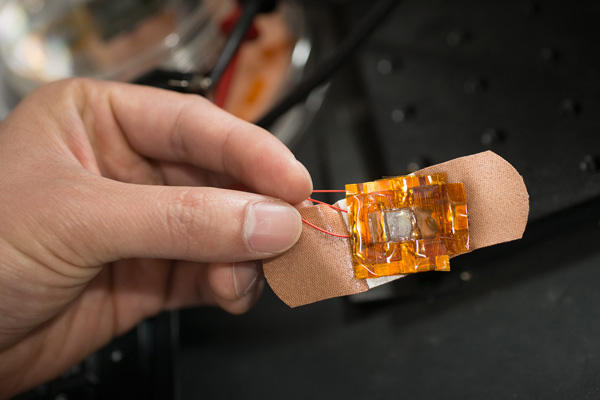 Senior researcher Yonggang Huang led the portion of the research focused on theory, design and modeling. The technology and its relevance to basic medicine have been demonstrated in this study, although additional testing is needed before the device can be put to use.
The technology uses the transient temperature change at the skin's surface to determine blood flow rate, which is of direct relevance to cardiovascular health, and skin hydration levels. The device is an array of up to 3,600 liquid crystals, each half a millimeter square, laid out on a thin, soft and stretchable substrate.
Huang said that when a crystal sensed temperature, it changed color, and the dense array provided a snapshot of how the temperature is distributed across the area of the device. An algorithm translated the temperature data into an accurate health report, all in less than 30 seconds.
With its 3,600 liquid crystals, the photonic device had 3,600 temperature points, providing sub-millimeter spatial resolution that was comparable to the infrared technology currently used in hospitals.
The device also has a wireless heating system that could be powered by electromagnetic waves present in the air. The heating system was used to determine the thermal properties of the skin.
The study is published online in the journal Nature Communications.