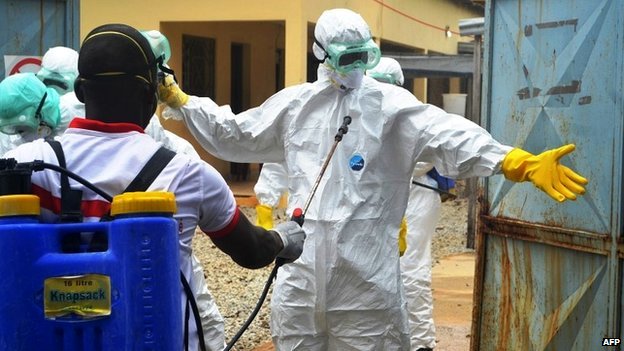 Eight members of a team trying to raise awareness about Ebola have been killed by villagers using machetes and clubs in Guinea, officials say.
Some of the bodies – of health workers, local officials and journalists – were found in a septic tank in a village school near the city of Nzerekore. Correspondents say many villagers are suspicious of official attempts to combat the disease.
More than 2,600 people have now died from the Ebola outbreak in West Africa. It is the world's worst outbreak of Ebola, with officials warning that more than 20,000 people could ultimately be infected. Neighbouring Sierra Leone has begun a controversial three-day curfew to try to stop the spread of the disease.
The team disappeared after being pelted with stones by residents when they arrived in the village of Wome – in southern Guinea, where the Ebola outbreak was first recorded. A journalist who managed to escape told reporters that she could hear villagers looking for them while she was hiding.
Read More: Worst-ever Ebola outbreak, by the numbers
A government delegation, led by the health minister, had been dispatched to the region but they were unable to reach the village by road because a main bridge had been blocked.
'Killed in cold blood'
On Thursday night, government spokesman Albert Damantang Camara said the victims had been "killed in cold blood by the villagers". The bodies showed signs of being attacked with machetes and clubs, officials say.
Six people have been arrested and the village is now reportedly deserted. The motive for the killings has not been confirmed, but the BBC's Makeme Bamba in Guinea's capital, Conakry, says many villagers accuse the health workers of spreading the disease. Others still do not believe that the disease exists.
Last month, riots erupted in Nzerekore, 50 km (30 miles) from Wome, after rumours that medics who were disinfecting a market were contaminating people. Speaking on Thursday, French President Francois Hollande said France was setting up a military hospital in Guinea as part of his country's efforts to support the West African nations affected by the outbreak.
Read More: US to provide USD 75 mn to expand Ebola care centers
He said the hospital was a sign that France's contribution was not just financial, adding that it would be in "the forests of Guinea, in the heart of the outbreak". The World Health Organization said on Thursday that more than 700 new cases of Ebola have emerged in West Africa in just a week, showing that the outbreak was accelerating.
It said there had been more than 5,300 cases in total and that half of those were recorded in the past three weeks. The epidemic has struck Liberia, Sierra Leone, Guinea, Nigeria and Senegal. A three-day lockdown is underway in Sierra Leone in a bid to stop the disease spreading.
Source: bcc