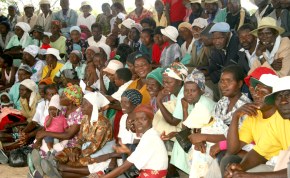 Zimbabwe is facing challenges in eliminating tuberculosis (TB) say health experts, who are calling for much greater integration of HIV and TB programmes within the healthcare system.
Tremendous progress has been made in minimising the spread of HIV while TB programming is weak in comparison, according to Michael Bartos, UNAIDS country director for Zimbabwe.
Strengthening coordination systems
Bartos told a recent workshop for Zimbabwean civil society organisations that there was an urgent need to strengthen coordinating systems across HIV, TB and malaria. The workshop was run by AIDS Accountability International in partnership with Southern Africa AIDS Trust and Zimbabwe AIDS network.
"We need, as civil society, to enhance HIV mobilisation to support TB. There is weak mobilisation of communities where it matters. The issue of resources also needs to be addressed if we are to succeed in eliminating the spread of TB," Bartos said.
Civil society priorities
At the workshop, representatives from various HIV groups created a priorities charter as an 'advocacy road map' for the Global Fund to fight AIDS, TB and malaria. The top priority was the need for a coordinating mechanism for HIV and TB, according to Dr Gemma Oberth, senior researcher at AIDS Accountability International.
"This is because HIV coordinating structures are disproportionately strong, compared with TB civil society networks," Dr Oberth said.
Some of the priorities identified include prevention, treatment, advocacy, care and support, mitigation and stigma reduction.
Zimbabwe is ranked 17 among the 22 countries in the world worst affected by TB, according to a research project commissioned by the World Health Organisation.
Victoria James, director of New Dimension Consulting, which carried out the research, said: "The estimated incidence of new TB cases was 633 per 100,000 in 2010 compared to 97 per 100,000 in 1990, reflecting a growing trend.
Seventy-five per cent of adult TB cases are reported to be HIV co-infected, while HIV testing in TB is 97 per cent. The treatment rate is very low and civil society needs to focus more on playing a role to address the issues."
She also highlighted some concerns involving new TB diagnoses, which are reported to have increased from 35,340 in 2013 to 38,725 in 2012.
Lack of resources
According to Dr Charles Sandy, deputy director of AIDS and TB programmes at the Ministry of Health and Child Care, TB is managed through the routine health system. The government is faced with the challenge of a lack of resources, although it collaborates with local and international partners.
"We are dependent on the health delivery system for success of the TB programme. Although we have made some progress in trying to address TB, we are facing challenges of a demotivated health workforce and lack of optimum work performance," Dr Sandy said.
He added that community awareness in addressing TB was low and more resources were needed to address the challenges. Sandy said the government worked with civil society organisations through the Country Coordinating Mechanism and invited them to make suggestions on how they could be more involved.
Source: all africa