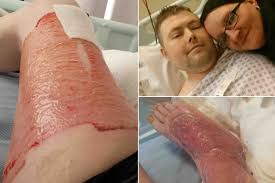 A flesh-eating bug has left a man critically-ill after attacking him for the second time.
Lee Murphy is today in hospital fighting off the killer condition a year after it first ravaged his body.
Fiancée Gaynor Chambers, 32, said: "I can't believe this is happening all over again. It's our worst nightmare come true.
"Lee is really struggling at the minute and has been in the operating theatre as they try to stop it spreading.
"We are engaged and were going to start trying for a family, now our whole world has fallen apart."
It has been a nightmare 12 months for the 32-year-old former car salesman, from Stanley, who first contracted the flesh eating bug – necrotising fasciitis – this time last year, reports the Newcastle Chronicle.
Gaynor said: "Lee came in from work saying he had pulled a muscle in his leg. When we looked his right leg was starting to turn red, then it looked bruised."
Realising there was something seriously wrong, the couple went to the University Hospital of North Durham where medics said the bug was stripping the skin off Lee's leg, from his thigh to his foot.
Lee then spent five days in a coma before doctors were able to begin a series of skin grafts in a desperate effort to repair the damage.
A staggering 16 operations followed during the next few months.
Gaynor, of Consett, said: "He was just starting to recover well although he was struggling to walk a bit and was due another operation on his foot.
But, on Monday Lee's worst nightmare started to happen all over again.
"The exact same thing happened," said Gaynor. "I knew we had to get to hospital as soon as possible.
"They told us the bug had returned, this time on the back of his leg. It's a complete and utter nightmare; they've even had to take some of the original skin grafts off.
Source: Mirror uk