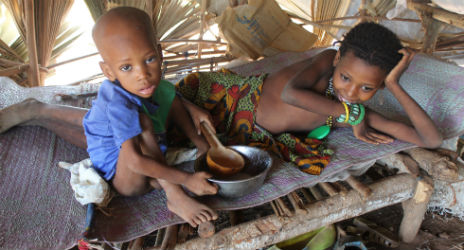 Samira Suleman is carrying her six-month old twins and is trying to breastfeed them but she cannot produce enough milk. "I have not eaten since morning so my milk is not flowing and I have no other way to feed my children.
When I manage to have some food, I am happy because it enables me to produce some breast milk for my twins," says this 26-year old mother. She arrived in Mboy in eastern Cameroon with her family about four months ago, after fleeing the ongoing violence in neighbouring Central African Republic.
Not far from Samira is Awawou Bakari who is reeling from the loss of one of her newborn twins who died the previous day, just a few hours after birth. "My baby did not survive. I suffered a lot during the last quarter of my pregnancy because my antenatal visits were interrupted due to lack of resources. We spent all our money on transportation to get to the Cameroon border. Here in Mboy, we usually go several days without any meals. Sometimes the villagers give us a few kilograms of maize," recounts Awawou, in a barely audible voice.
Both women now live in a refugee camp in Yokadouma, along with over 650 other people, where access to drinking water is also very difficult, with the lone supply source not up to consumption standards. "It is very difficult for us to get water and in order to get some, we need to travel several kilometres to reach the source. We give our children this water because we have no other choice," adds Awawou.
Their stories echo those of thousands of other families, driven from their villages by the fighting and violence that has plunged the Central African Republic into total chaos for more than a year now.
The United Nations High Commission for Refugees (UNHCR) reports that 88,939 men, women and children fled their homes, heading to the relative safety found in refugee camps and host communities in the east, Adamawa and far north regions of Cameroon.
The majority are preferring to remain in the east region, close to their home country. More than 43,000 sit in transit centres, still waiting to be transferred to camps. They live in precarious conditions and lack shelter, food and health care. While they wait, entry points into Cameroon continue to bustle, with new refugees arriving by the hundreds daily.
At the Garoua-Boulai transit camp, a team of Cameroon Red Cross Society volunteers is actively taking care of 600 new refugees. These teams conduct malnutrition screening among children and pregnant and breastfeeding women.
"We have recorded 16 cases of malnourished children since morning," says Ina Kombo, a volunteer in charge of screening at the site. "Ten children were moderately malnourished while six were severe. Cases of severe malnutrition are referred to the Garoua-Boulai district hospital for immediate care."
The majority of refugees arriving in Cameroon are children (57 per cent). Many are suffering the effects of not having adequate nutritious food to eat, the results of which can lead to life-long challenges.
Undernourished children are less able to ward off infection and are more susceptible to common childhood ailments like diarrhoea and respiratory infections. Sickness keeps them out of school, which later affects their ability to attend higher education.
"Since the outbreak of the crisis, we have detected more than 500 cases of malnutrition among the target population in the Gado camp alone," says Faustin Tsimi, emergency operations coordinator, Cameroon Red Cross Society.
"These patients are treated in various hospitals by a joint team from the Cameroon Red Cross, the ministry of public health and other humanitarian agencies. The management of malnutrition equally includes the provision of food supplements to patients, implemented in partnership with the World Food Programme."
More than 300 Red Cross volunteers have been deployed as part of this operation, some of whom will support the French Red Cross Society in the management of malnutrition in Timangolo, which now hosts 750 refugees. The teams will manage an integrated health centre which is being refurbished and which specializes in maternal and child health and nutrition.
As part of its support to the Cameroon Red Cross Society, the International Federation of Red Cross and Red Crescent Societies (IFRC) revised its emergency appeal in the country in a bid to provide further assistance to the increasing influx of new refugees, focusing on malnutrition. "We are doing our best to cover the basic needs of the population.
However, we are facing an increasing demand due to the arrival of new refugees. Evaluation missions conducted by our teams will enable us to improve assistance to thousands of new refugees. It is only through effective mobilization of the international community that we can reduce the vulnerability of refugees and host populations," says Denis Duffaut, IFRC regional representative, Central Africa.
The revised emergency appeal of 642,579 Swiss francs is currently 66 per cent funded.
Source: all africa