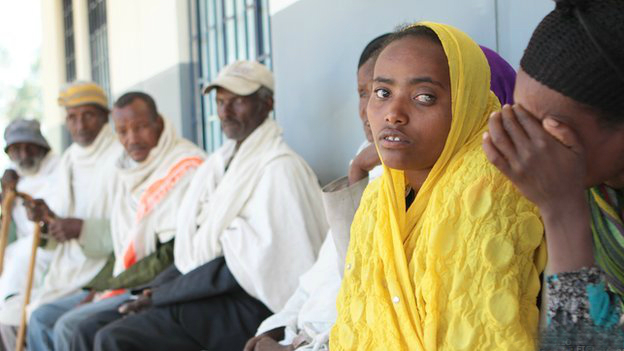 In the village school of Kuyu, in the heartland of Ethiopia's Oromia region, more than 20 children put up their hands when asked if anyone in their family has eye problems.
"My mother has lost vision in one eye and the other is causing her big problems," says one boy. "She can't see where she's going."
Another child says her grandmother is blind in both eyes and is forever pulling out her eyelashes. "She rubs and rubs them," explains the nine-year-old girl. "They give her terrible pain."
No hands are raised when the children are asked if they themselves have vision problems.
Yet, when an ophthalmologist examines the children's eyes, more than half of them are discovered to have infectious trachoma, a bacterial infection which is the world's leading cause of preventable blindness.
The disease starts in childhood. If untreated, the bacteria causes inflammation that leads to scar tissue building up under the eyelid.
The scarring eventually makes the eyelid turn inwards, causing the eyelashes to scratch against the cornea.
It is excruciatingly painful and if left untreated leads to irreversible blindness.
"The dangerous thing about trachoma is that there are very few symptoms for children," says Dr Wondu Alemayehu, one of the leading eye specialists in Ethiopia, and technical adviser for the Fred Hollows Foundation, which is leading a campaign in Ethiopia to tackle the scourge of trachoma.
"A child with trachoma would have a little bit of discomfort but not that much.
"It's what they pass on to their mothers that can become dangerous."
The World Health Organization estimates that 21 million people are affected by trachoma, of whom about 2.2 million are visually impaired and 1.2 million blind.
The Oromia region in southern Ethiopia is home to more than 30 million people and has the highest prevalence of trachoma in the country at around 42%. The disease prevails in hot dusty areas where people often lack access to sanitation.
Some three miles (5km) from the school, at a clinic set up to screen for trachoma, 60-year-old Sharage Feyine waits patiently to be examined.
She rubs her eyes incessantly and says her vision problems – pain in both eyes and terrible itching – began a year ago.
"I used to be able to cook for my family. Now I have become dependent," she says.
Relief to thousands
"The pain and the devastation of trachoma can be stopped by 10 minutes of surgery," says Dr Alemayehu.
Dr Alemayehu has trained a team of local health workers to perform trichiasis surgery in their community.
The surgery is designed to rotate the eyelid outwards, directing the eyelashes away from the eyeball.
Without the correction, the pain and scarring continues, eventually causing blindness.
Going from village to village, the team is taking treatment directly to those suffering from the disease.
Within Oromia alone, 200,000 people are at risk of going blind unless they have surgery.
Women are twice as likely as men to develop the disease as a result of caring for children who have active trachoma.
Mapping the problem
"Trachoma is a disease of poverty," says Simon Bush, director of the Neglected Tropical Disease programme at Sightsavers.
"It is endemic in areas which have poor access to water and sanitation."
The British charity is leading a coalition of NGOs with the ambitious aim of ridding the world of trachoma by 2020.
The first step is to map the prevalence of the disease – a global survey to examine four million people in more than 30 countries by March 2015.
The Global Trachoma Mapping Project, funded by the UK Government's Department for International Development, will identify where people are living at risk of the disease and where treatment programmes are needed.
Key to the mapping process are specially trained ophthalmic nurses who visit each household in the survey area.
Using an app installed on a mobile device, results are instantly uploaded to a site which charts the mapping process.
Monitors also provide antibiotics to anyone showing signs of the infection, and refer those who cannot be treated in this way for surgery.
Two days after surgery, Misiak , a woman in her 40s, returns to the clinic with some trepidation to have her bandages removed.
She admits to having had a sleepless night, worrying about the outcome.
Dr Wondu Alemayehu watches proudly as two members of his surgical team remove Misiak's bandages before applying ointment to both eyes.
Sitting up, Misiak is initially dazed, but as she begins to realise she can see again, a huge smile lights up her face.
"You are all beautiful!" she exclaims, reaching out to touch Dr Alemayehu's hand.
Source: BBC news