With Ebola virus scare on the rise, South African Airways on Wednesday said it had taken a series of steps, including installation of thermal scanners at airports in that country to detect affected passengers and regular fumigation of its aircraft to prevent its spread.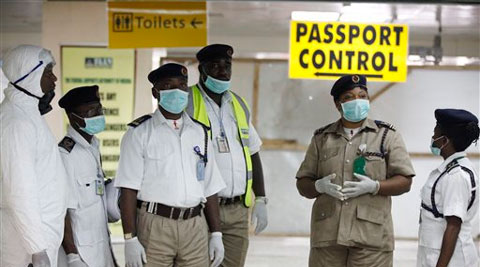 Thermal scanners, which detect high temperatures among passengers, have been installed at O R Tambo Airport in Johannesburg and affected travellers, when identified, were quarantined and assessed at medical facilities at the airport, the airline's country manager Sajid Khan said in a statement.
He said regular fumigation and disinfection of South African Airways' aircraft were also being carried out.
"Following the reported outbreak of the Ebola virus in West Africa, the South African National Department of Health is on high alert and would like to assure all tourists travelling to South Africa about all precautions being taken to prevent the EVD (Ebola Virus Disease).
"The department is working in close coordination with key organisations like the World Health Organisation and the United States Centres for Disease Control and Prevention, among others," Khan said.
Apart from heightened surveillance by Port Health officials for travellers with EVD signs and symptoms, he said, "All foreign nationals who test positive and all citizens of affected nations were being denied entry in South Africa."
Allaying fears, he said since South Africa does not share a land border with any of the affected countries, it falls under the category of 'low risk countries', like India, Europe and most other nations.
Source; The Indian Express