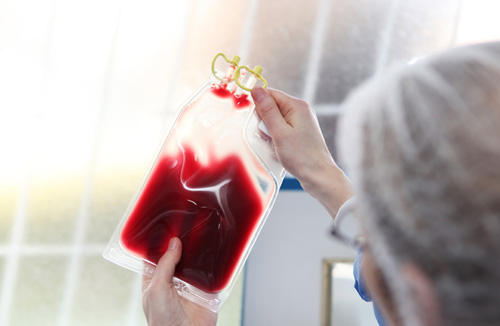 A leading specialty hospital has demonstrated that bone marrow stem cells can cure blood disorders like leukemia, thalassemia and aplastic anemia, a bone marrow failure.
"Bone marrow transplant has emerged as an effective cure for cancerous and genetic blood diseases through transfusion of its stem cells from a healthy donor to an affected patient," Narayana Health City consultant hematologist Sharat Damodar told reporters here Tuesday.
The corporate hospital in the city's southern suburb claims to have performed about 300 bone marrow transplants with over 80 per cent success rate.
Bone marrow can be collected from a related donor (siblings), matched unrelated donor (non-family members) and haploidentical donor (father or mother).
"As it is a challenge to find donors in India, there is need for greater awareness to donate bone marrow to needy patients," said Damodar. A person suffers from leukemia when the bone marrow starts producing abnormal white blood cells.
"Though leukemia can be treated with radiation and chemotherapy, in case of relapse, the option is a bone marrow transplant," he added. In case of thalassemia, an inherited blood disorder which makes less hemoglobin, the treatment option is regular blood transfusion or bone marrow transplant.
"We are partnering with Cure Thalassemia, an Italian organisation, which pioneered bone marrow transplant for thalaseemia patients," Damador said. Aplastic anemia (bone marrow failure) occurs when the quantity of each of the three blood cell types is much lower than normal.
"Its symptoms are unexplained infections (due to fewer white blood cells), unexpected bleeding (due to fewer platelets) and fatigue (due to fewer red blood cells). Treatment includes blood transfusion, blood and marrow stem cell transplants," he said.
With the largest bone marrow transplant facility, Narayana gets about 30 per cent of overseas patients for treating blood disorders. Founded by renowned cardiologist Devi Shetty, Narayana has 26 hospitals in 16 cities with 6,900 beds across the country.
The group's flagship hospital here has also largest dialysis unit with tertiary care expertise in liver, kidney and heart transplants
Source: Times of India