Method 1 of 7: Common sources of nausea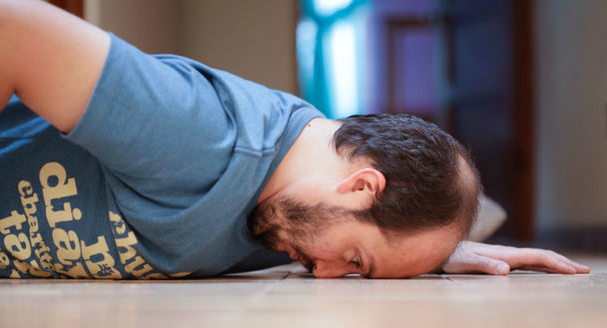 1. Find the source of your nausea.
If you have frequent bouts of nausea, keep a journal for a couple weeks, and see if you can find any common factors.
Nausea can be a side effect of certain food allergies. When you become nauseated, think about what you ate in the past 8 to 12 hours.
Lactose intolerance. If you're one of those who can't digest dairy products or feel nauseous after consuming them, you may be lactose-intolerant. It's not the end of world. There are medications that will help you digest lactose if taken before meals, as well as special lactose-free milks and dairy products. Goat's milk, unfortunately also contains lactose, so it isn't a good substitute.
Motion sickness. Some people get sick riding on planes, boats, or in cars. This can be prevented by over-the-counter medications. Dramamine works great, and it's about $5 USD at drug store.
Excess alcohol. If alcohol is the cause of your nausea (meaning you're hungover), Alka-Seltzer in the morning works great. Also be sure to drink lots of water to regain fluids. If this is a frequent cause of nausea, yet you find it difficult to quit, you might want to seek medical assistance—you could be addicted to alcohol.
2. Use acupressure. You can do this by applying your thumb to your wrist and pressing for 30 seconds. Your index and middle fingers should be on the top of your wrist.
Method 2 of 7: Relaxation
1. Give your body what it needs.
If you're feeling dizzy (often part of nausea), try not to move around too much, even when your stomach is doing somersaults—unless it's about to do a triple somersault towards the nearest exit.
The most important thing is to keep your head still.
2. Lay with your knees bent. This can help ease pain.
Consider trying to kneel on both knees and rest your forehead on a pillow. This might help stretch and rest your body at the same time.
Get up slowly after resting.
3.Lie face down on a cold tile floor. This can be very soothing.
4. Use cool, wet cloths. Sometimes putting a cool washcloth on your forehead can help relax you.
5. Sleep or take a nap. You will either feel better or worse when you wake up, but it's better than suffering.
6. Take deep breaths. When your stomach is slightly upset, the deep breaths create a different rhythm pattern in the stomach.
7. Take a bath and relax. Anxiety is known to make nausea worse. If you are obsessing about being sick, this can make you sick. Stimulate your mind.
Method 3 of 7: Fresh air
1. Get the air flowing. Have a fan blow on your face or body. This will reduce nausea, and will feel quite good.
2. Get away from bad odors. Avoid sitting in hot rooms and avoid repulsive smells—which, when you're nauseous, is just about any smell at all.
3. Go for a walk around the block and get some fresh air.
Sometimes just taking a walk and getting air will help your body feel better. The sooner you do it after the onset of nausea, the easier it will be.
Some people find any activity worsens the nausea. Be sensible if this makes things worse and stop.
4. Sniff rubbing alcohol. Apply a small amount to some cotton balls or makeup pads, and hold those under your nose.
Method 4 of 7: Non-prescription drugs
Seek relief with non-prescription drugs. Some over-the-counter medications such as Pepto-Bismol, Maalox and Mylanta help calm nauseated stomachs. Others include Emetrol and Neuzene. It depends on the cause of nausea, but an irritated stomach may feel better after a couple of spoonfuls. Anti-motion sickness drugs like Dramamine can also help as well.
Some medications can cause nausea as a side effect. Talk to your doctor.
Domperidone (sold as Motillium in the UK) works for some people.
Method 5 of 7: Foods that help ease nausea
1. Have regular meals and snacks. You may think this is the last thing to do but it is the first. Hunger or skipping a meal can make you feel sick.
Eat small meals throughout the day or snack on things to keep your stomach from being upset. Avoid overeating and stop when you are full.
Avoid spicy or greasy foods. They can enhance the nausea.
2. Eat crackers. Robert M. Stern, Ph.D., professor of psychology at Pennsylvania State University in University Park and a researcher on motion sickness and nausea for the National Aeronautics and Space Administration says that plain food is best for helping with nausea. He recommends eating or nibbling on low-fat foods, such as crackers.
Don't overdo it, though. A few crackers will ease your nausea, but too much of any food may make you feel even worse.
3. Eat fiber rich foods. These remove nausea-inducing chemicals from your system. Have an apple or snack on raw vegetables.
4. Snack on peanuts. Nuts and other protein rich foods replenish depleted energy and keep nausea at bay.
5. Eat a banana. Bananas contain potassium that is lost during nauseous symptoms.
6. Have some applesauce. Eat no more than a spoonful or so at a time, until your nausea has abated.
7. Use ginger. Nibble crystallized ginger. Or, make ginger tea by grating fresh ginger, pour boiling water over it, allow to brew, then strain.
8. Eat peppermint flavored candies such as Mentos or Tic-Tacs. The peppermint soothes nausea. Don't eat too many though as sugary sweets can make nausea worse.
Sugar-free peppermint gum is an option but be careful; chewing adds air and can cause bloating, worsening the nauseous sensations.
9. Do the BRAT diet. BRAT is a mnemonic acronym for the staples of this diet: Bananas, Rice, Applesauce, and Toast. It may not cure your nausea, but it may shorten the duration of the symptoms. Don't spend too long on this diet—it's lacking in a lot of nutrition.
Method 6 of 7: Drinks that help ease nausea
1. Drink a Maalox cocktail. Christa Farnon, M.D. recommends adding a few drops of spirit of peppermint in Maalox mixed with a quart of distilled water. Take a few sips of this to soothe your upset stomach and use the rest later, as needed.
2. Drink some peppermint tea. Peppermint stops spasms in the stomach that lead to vomiting.
3. Drink something warm. Tea, broth or herbal tisanes can help ease nausea; the warmth can be a comforting sensation.
4. Drink ginger ale. This has been a popular remedy to settle the stomach.
5. Drink sports drinks. These contain sodium and potassium electrolytes that are lost during bouts of nausea.
Don't drink anything with caffeine. Caffeinated products can upset the stomach further.
6. Avoid milk-based products. Dr. Farnon warns that milk products are harder to digest and the proteins and fats tend to create mucus which isn't kind on the stomach.
7. Drink flat soda. If you don't have flat soda, Dr. Grant suggests that you open up a carbonated drink and let it go flat. He recommends ginger ale, but other soft drinks work just as well. Dr. Farnon suggests the flat syrup of Coca-Cola, available in most drugstores, sipped over cracked ice when your stomach becomes queasy. Carbonated drinks, on the other hand, contain agitating acids.
Drink water with baking soda. Mix about half a spoonful of baking soda in a cup of water and drink it. It tastes awful, but gives very fast relief.
Method 7 of 7: Getting your mind off the nausea
Do something fun. Forget about the nausea. Watch a movie or talk to someone. Try playing a video game, listen to songs. Sometimes nausea is only in the mind.
Try not to stress about being sick, anxiety can make nausea worse.
Read a book, grab a crossword puzzle, or watch a movie!
Source: wiki how