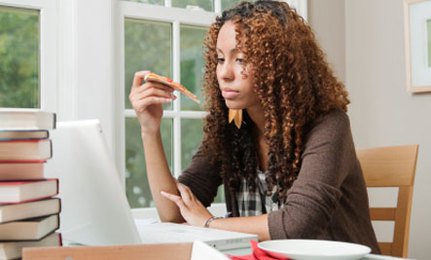 If you crave chocolate cake or Ben and Jerry's after a stressful day, you could gain over 10 pounds in a year, warns a new study.
The research, published in Biological Psychiatry, suggests that women burn fewer calories when under stress. The study participants who reported stress also had higher insulin levels.
"This means that, over time, stressors could lead to weight gain," said Jan Kiecolt-Glaser, professor of psychiatry and psychology at The Ohio State University and lead author of the study, in a press release. "We know from other data that we're more likely to eat the wrong foods when we're stressed, and our data say that when we eat the wrong foods, weight gain becomes more likely because we are burning fewer calories."
Researchers questioned 58 middle-aged women about their stress levels, and then served them a 930-calorie meal, complete with biscuits, gravy and 60 grams of fat. The researchers then measured how long it took the women to burn those calories (their metabolic rate). The stressed-out burned 104 fewer calories than the care-free women.
The researchers also noted that women with a history of depression combined with stress had a bigger rise in triglycerides after the meal. High levels of triglycerides are associated with cardiovascular disease.
"With depression, we found there was an additional layer. In women who had stress the day before and a history of depression, triglycerides after the meal peaked the highest," Kiecolt-Glaser said. "The double whammy of past depression as well as daily stressors was a really bad combination."
While it's unclear whether the effect would be the same in men, it's probably safer for everyone to reach for a green smoothie after a long day.
Source: discovery news