Once viewed by some as a food too high in calories to enjoy on a regular basis, nuts are getting new respect.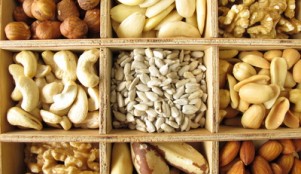 Two recent studies have touted the benefits of nuts for blood sugar control. One, published in Diabetes Care, found that eating pistachio nuts daily may help people at risk of getting diabetes control their blood sugar. A second, published in PLOS One, found that tree nuts — including almonds, Brazil nuts, cashews, and pecans, among others — may improve blood sugar control in people with type 2 diabetes.
These are only a couple of many recent studies that point to the health benefits of eating nuts in moderation. What are some of the top health benefits of nuts, as found in recent research?
Aside from helping with blood sugar, nuts have been linked with improving heart health and helping with weight control. A study from last year even suggested that eating nuts of any type may help you live longer.
Doctors have known about the heart-health benefits for a while, says Christine Rosenbloom, PhD, RDN. She's a professor emerita of nutrition at Georgia State University and a nutrition consultant. The value of nuts to lower cholesterol has also been acknowledged, says Jessica Crandall, RDN. She's the director for outpatient nutritional counseling at Sodexo Denver Wellness and Nutrition.
What's more, researchers from Purdue University found that nuts are not linked with weight gain, despite their relatively high calorie count. An ounce of nuts has 160-200 calories, depending on the type.
What are the "good things" in nuts, and how do these substances work in our bodies?
The protein in nuts can help keep blood sugar stable, Crandall says. The fiber helps with weight control, partly by helping us feel full. Some say the "crunch" value also adds to a feeling of fullness.
Nuts are about 80% fat, but mostly "good" unsaturated fats. Other good stuff in nuts includes magnesium (which helps maintain the calcium-potassium balance in your body), folate (critical for a healthy brain), and vitamin E (to maintain a healthy circulatory system). They also have arginine, an amino acid that's needed to make nitric oxide, which relaxes the blood vessels.
Plus, nuts can improve insulin sensitivity, which lowers diabetes risk, research has shown.
Are some nuts better or healthier than others?
"I think they are all healthy," Rosenbloom says. "All are similar in protein, fiber, and fat [content]."
Still, she says, some nuts are higher in certain nutrients than others. For instance, almonds are the best source of vitamin E, she says. Cashews are a good source of magnesium, and pistachios are rich in the phytonutrients important to eye health, she says. "Eating a variety of the different kinds will give you all those benefits
Source: webmd