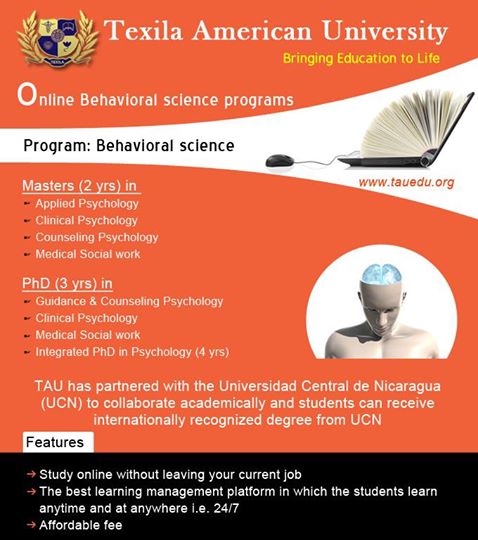 Texila American University (TAU) combines effective theoretical and practical experience in Master's and Doctoral programs in School of Behavioral science. TAU offers these programs adapting to current technology and standards to meet everyday
challenges in the Psychology.
Our advanced online learning system provides you with the flexibility and support to study anytime, anywhere to balance work, life and study. You can achieve your fully accredited Degrees in Information Technology at a time that suits you.
Texila American University (TAU) combines effective theoretical and practical experience in Master's and Doctoral programs in School of Behavioral science. TAU offers these programs adapting to current technology and standards to meet everyday
challenges in the Psychology. To know more details please register here:
http://www.tauedu.org/texila-connect/signup.html
Watch TAU Behavioral science Program Video
http://www.youtube.com/watch?v=Yl7YEwVf6ms