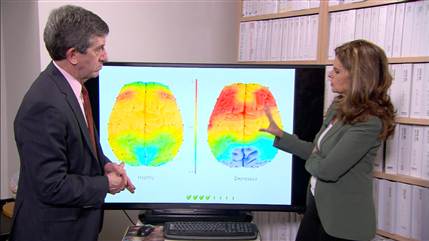 Depression is a serious medical condition that affects millions of Americans — and nearly twice as many women as men.
Symptoms can include persistent feelings of sadness or hopelessness and loss of interest in activities that were once pleasurable, according to the National Institute of Mental Health. Other symptoms include feelings of guilt or worthlessness, irritability, changes in appetite, increased fatigue, difficulty concentrating — even recurrent thoughts of suicide.
About 12 million American women suffer from depression each year, women like Debi Lee. The pastor and mother of three tells NBC Special Anchor Maria Shriver that she was first diagnosed in high school, but her condition became debilitating after the birth of her children.
"It's a struggle," said Lee. "There's definitely a stigma still. Somewhere in the back of my mind, I should be able to control this."
Although depression is treatable, most commonly with medications or counseling, many never seek help, often because they are too embarrassed or ashamed.
"Depression is really a physical illness," said Dr. Andrew Leuchter, a psychiatrist at the Semel Institute for Neuroscience and Human Behavior at University of California, Los Angeles.
It's a disorder that even can be seen in brain scans, with images clearly showing the difference between a normal functioning brain and the brain of someone suffering from depression.
"When you show this image to a person who's struggling with depression and you show them that their brain looks different than the quote so-called healthy person, what's their reaction?" Shriver asked.
"It's commonly one of relief," Leuchter said.
Now, Dr. Leuchter says there's an innovative new treatment called synchronized transcranial magnetic stimulation, or sTMS, that may have the potential to provide relief. Dr. Leuchter, a consultant and stockholder in the company behind sTMS, says it syncs to each patient's brain, then stimulates it with low levels of magnetic energy, 30 minutes a day for several weeks.
"And when that happens, normal moods can start to come back," said Dr. Leuchter.
His unpublished study of 120 patients found the treatment significantly decreased depression in some patients, compared to the placebo. The treatment is currently being studied, but not yet approved for the public.
Dr. Matthew Rudorfer, associate director of treatment research for the National Institute of Mental Health, said sTMS "represents an exciting advance for people who don't want to take medications, can't take medications, or who do not respond to medications."
Currently under FDA review, sTMS treatment is not yet approved for the public but might one day offer hope for patients with depression, such as Lee, who would like to be medication-free.
"It made me feel normal," she said.
Source: today