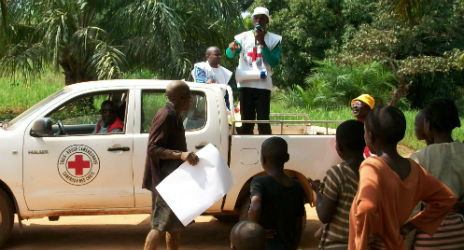 "A case of polio was discovered in west Cameroon in September 2013," says Dr Simeon Koutang from the Cameroon Red Cross Society.
"The seven year old child who was hit by paralysis of the lower limbs had never received any vaccine. He did not have a vaccination card and was not registered in the files of the Expanded Programme on Immunization centre."
Further investigation revealed ten cases of people with acute paralysis, the first time polio had surfaced in Cameroon since 2009. "We were faced with an epidemic of wild polio virus," explains Dr Koutang.
The Cameroonian government together with its partners, including the Cameroon Red Cross Society, responded, focusing on a common action consisting of organizing vaccination campaigns in the most affected areas, as well as those at risk.
Using funds provided through the International Federation of Red Cross and Red Crescent Societies' (IFRC) Disaster Response Emergency Fund, 670 volunteers were mobilized and deployed in health districts to support field actions.
"Our teams have conducted mass awareness campaigns to prepare populations for vaccination. They ensured the immunization coverage survey that takes place during the deployment of vaccinators was done. They also helped to detect cases of unvaccinated children," says Dr Koutang.
Volunteers also went door to door and talked to religious and traditional leaders who then encouraged reluctant communities to take part in the vaccination campaigns.
Through its effort as part of the government's response, the Red Cross reached an estimated 700,000 children under the age of 10 during the two campaigns.
The campaigns also included monitoring by ten Red Cross supervisors who were deployed to identify and vaccinate children who had been missed during the first round of vaccinations, and to identify areas at risk for future campaigns.
Over the years, the Cameroon Red Cross Society has established itself as a key partner of the government in the fight against polio.
In November 2012, the National Society took part in a vaccination campaign against polio organized in the three northern regions of the country by mobilizing more than 1,200 volunteers.
"The Cameroon Minister of Health has recognized the added value of having the Cameroon Red Cross Society as a key partner in the fight against polio," says Dr Viviane Nzeusseu, IFRC regional health coordinator. "Their volunteers and efficiency of work solidifies their commitment battling this preventable disease."
Source: All africa