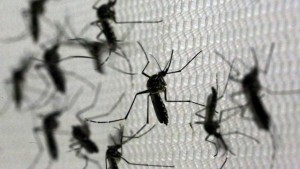 Fifteen cases of locally transmitted Zika have now been confirmed in South Florida, prompting the CDC to issue an advisory warning pregnant women to avoid travel to the one-square mile area of Miami where most of the infections occurred.
The virus, which is primarily spread through mosquito bites, has been spreading at epidemic levels in Latin America and the Caribbean throughout the last year.
Though Zika virus produces only mild symptoms — or none at all — in most people who are infected, it is particularly worrisome for pregnant women, because it has been found to cause a severe birth defect called microcephaly in babies.
There is no vaccine or cure for the virus.
With news of Zika's arrival in the mainland U.S., many people have questions about who's at risk, how Zika spreads, and the warning signs to look out for.
How is Zika transmitted?
Zika is primarily transmitted through the bites of Aedus Agypti mosquitoes. When one of these mosquitoes bites an infected person, it can pick up the virus and then spread it others when it bites them.
The species can bite four or five people in one blood meal, meaning it has the potential to spread the virus rapidly, CDC director Dr. Tom Frieden has said.
What are the symptoms of Zika?
Signs of Zika infection may include:
Mild fever

Skin rash

Muscle or joint pain

Conjunctivitis
Symptoms appear within 14 days of the initial infection.
However, about four out of five people who are infected with Zika do not experience any symptoms at all and probably don't know they have it.
"It's very important to understand that those who are experiencing symptoms aren't necessarily a good estimate of how many people have been infected," Dr. Ricardo Lopez, an OBGYN with Orlando Health, told CBS News.
In a small number of patients, the virus can cause more serious neurological problems including temporary paralysis — a condition called Guillain-Barre syndrome.
Source: http://www.cbsnews.com/news/zika-virus-symptoms-how-do-you-know-if-youre-infected/