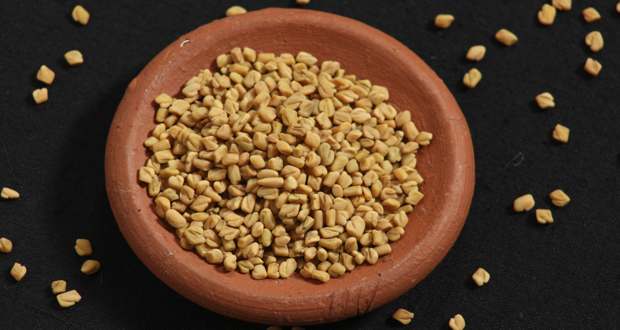 Methi or fenugreek seeds and leaves alike are common additions to an Indian diet. But this tiny brown seed is not simply a condiment. Packed with amazing health benefits, right from being able to increase the production of breast milk to helping in digestion, methi seeds have a number of health benefits. Packed with proteins, fibre, vitamin C, niacin, potassium, iron and alkaloids, methi contains a compound diosgenin which has oestrogen-like properties, as well as steroidal saponins. Known as a common natural method to delay the graying of hair, methi is the perfect antidote against stubborn hair related conditions like dandruff.
A potent anti-bacterial and anti fungal agent, methi helps to get rid of dandruff permanently and prevents it from recurring. Apart from that, methi also helps keep your hair shiny and conditioned due to the nourishing activity it has on your scalp.
Here is how you can use methi to beat dandruff:
Soak methi seeds in some water overnight (the amount of methi seeds you take depends on the thickness and length of your hair). After they have been soaked for at least eight hours, grind them to make a paste. Now apply this paste on your scalp and leave it in for half an hour. Next, wash your hair and scalp well with reetha or soapnut powder.
To keep dandruff at bay, you can also choose to use methi leaves instead of methi seeds. Crush the leaves and apply this on your hair half-an-hour before you wash your hair. Practice this regularly and you should see the results in about one month.
Source: the health site