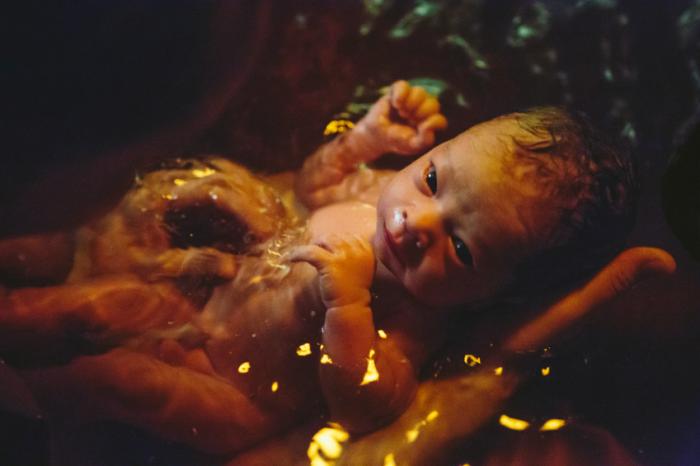 Birthing pools have been used for some time in Europe, Australia and New Zealand. In the US, they have gained popularity. However, safety concerns have caused controversy.
Immersion in water during labor is thought to have various benefits, including less need for pain medication and, theoretically, a smaller chance of vaginal trauma, as the perineum becomes more elastic and relaxed in water.
The water is believed to reduce stress hormones and decrease blood pressure, easing tension in the mother. For the baby to pass from the amniotic sac into the warm water may also be less stressful for the neonate, possibly reducing fetal complications.
One concern is the possibility of drowning. When babies are born, they have a "dive reflex," which means they can block their throats when underwater. This should mean there is little chance of drowning. However, near-drownings have been reported due to the baby breathing in fluid from the tub.
There is also a small risk that water will enter the mother's bloodstream, causing a water embolism. The fear of additional exposure to infection has also been voiced, although at least one study has indicated that this is unlikely.
The American College of Obstetricians and Gynecologists and the American Academy of Pediatrics support laboring in water but not being immersed when the baby is born.
Researchers at Oregon State University (OSU) studied data on nearly 17,000 women who gave birth in the US between 2004-2009. The majority were attended by Certified Professional Midwives.
The source of the data was the Midwives Alliance of North America Statistics Project (MANA Stats), and the midwives provided detailed reports on their cases from their medical records.
Of the 17,000 recorded cases, more than 6,500 of the deliveries were water births. These births were all attended by midwives, and they all took place either in a dedicated birthing center or at home. None of the water births analyzed were carried out in a hospital.
Source: medical news today