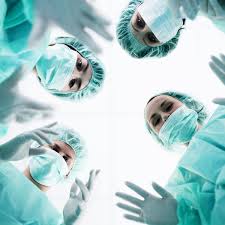 So what do doctors chat about after you've gone under anesthesia? You may not want to know, according to a lawsuit picked up by Courthouse News Service. A colonoscopy patient in Virginia says he used his cellphone to record instructions given to him prior to his April 18, 2013, procedure, and accidentally left it on and recording. "DB" says doctors mocked him relentlessly. A sampling:
Dr. Tiffany Ingham is heard saying to the unconscious patient: "And really, after five minutes of talking to you in pre-op I wanted to punch you in the face and man you up a little bit."
Ingham also allegedly called him a "big wimp" and a "retard," joked about firing a gun up his rectum, made fun of his alma mater (Mary Washington College), and threatened to falsely note on his chart that he had hemorrhoids.
The medical team joked about a rash on the patient's penis, speculating it might be syphilis. Then Ingham allegedly said, "It's probably tuberculosis in the penis, so you'll be all right."
Doctors also strategized about how to avoid him after surgery.
The Fairfax County patient is suing for $1.35 million in damages. (More odd medical news: A Pennsylvania woman has been busted dealing heroin—from her hospital bed.)
Source: newser