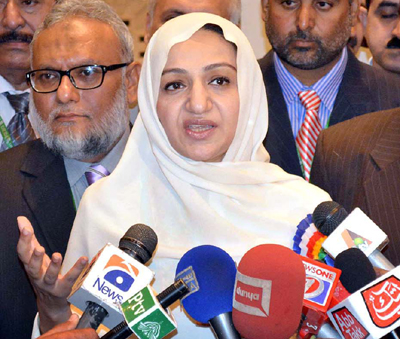 Minister of State for National Health Services, Regulations and Coordination Saira Afzal Tarar on Tuesday said that the government is attaching high priority to strengthening of eye health care system in the country.
She was addressing the launching ceremony of three projects included Pakistan Australia – prevention of avoidable blindness project by the Fred Hollows Foundation Australia, strengthening of Pakistan's response to diabetic retinopathy project by Sightsavers, UK and the regional contaract program CBM Germany, organized by National Committee for Eye Health (NCEH).
The minister said after devolution the responsibility is now shifted to the provinces, however the federal government is working on different projects for eliminating avoidable blindness.
She thanked the government of Australia for its assistance for reducing blindness in Pakistan and expressed the hope that such support will continue in future also.
She appreciated the performance of National Committee for Eye Health and particularly sincere efforts of committee's chairman. She urged other medical professionals to come forward and play their due role in the development of health sector.
Australian High Commissioner Peter Heyward said that the government of Australia is delighted to support Pakistan in health sector and pledged to continue such support in future.
He expressed the hope that with start of these projects in Pakistan, the government will be able to achieve the goal of elimination of avoidable blindness in Pakistan.
National Coordinator and Chairman National Committee for Eye Health (NCEH), Prof Dr. Asad Aslam Khan said that prevalence of blindness is 0.9% and cataract surgical rate has crossed 4000 per Ophthalmologist per year, meaning that on an average a Pakistani Ophthalmologist is doing more than 10 cataract surgeries per day.
He added, teaching hospitals have optometrists, Refractionists, Orthopists, Oph Technicians and 50% DHQ and THQ hospitals across the country are having Refractionists, Oph Technicians working there and post of Ophthalmologists have been created at THQ hospital level in Punjab, KPK and Sindh and are gradually being filled up.
He said NCEH made its modest start in 1980 National Eye Camp and gradually evolved through the stages of National Committee for PBL in 1982, NSC For PBL in 1994 to present NCEH in 2008.
Dr Asad said that the committee with the generous support of WHO and INGOs FHF, Sightsavers, CMB, SCB, DFID and DFAT worked day and night for prevention of blindness and promotion of Eye health in Pakistan.
He said that the committee has been working for up gradation of eye health services in Pakistan on public private partnership with the support of International NGOs like Fred Hollows Foundation Australia, Sightsavers International UK and CBM Germany, AUS AID, DFAT, DFID and Corporate Sector SCB.
He added the partnership has resulted in many successful outcomes for the country, including establishment of Pakistan Institute of Community Ophthalmology (PICO), Peshawar, establishment of College of Ophthalmology and Allied Vision Sciences (COAVS), King Edward Medical University/Mayo Hospital Lahore, up gradation of eye departments of all teaching hospitals in countryand up gradation of Eye units of 120 DHQ hospital in the country.
He added other achievements included integration of Primary Eye Care in Primary Health Care, National Survey of Blindness and Low Vision 2002-2004, National Survey of Trachoma, National survey of Cataract surgical services, National Survey of Refractive Error services, National Programme for Prevention and Control of Blindness, 1993-1998 and 1999-2004 and 2005-2010 and devolved National Programme for Prevention of Blindness 2012-2015.
Source: business recorder