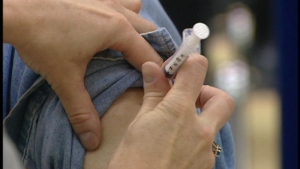 The U.S. Food and Drug Administration has sent a warning to the company that makes most of Canada's annual flu vaccine. The U.S. regulator sent a letter to GlaxoSmithKline about conditions at the company's manufacturing facility in Ste-Foy, Que.
FDA investigators "documented deviations from current good manufacturing practice requirements" in the manufacture of the FluLaval vaccine and its intermediates," the regulator said in a letter dated June 24.
The regulator said the company had failed to take appropriate steps to prevent sterility and microbial contamination of products. The FDA also has concerns about the company's purified water systems. The FDA warned that the company's licence to produce vaccine for the U.S market could be suspended or revoked if the problems are not fixed quickly.
GSK makes seasonal flu vaccine for the Canadian and U.S. markets. The company has 15 days to notify the FDA in writing about how it is correcting the violations.
GSK, regulators work together GSK said it's working with the agency to resolve the issues.
"We are making progress addressing these concerns, and we are committed to working with the agency to fully resolve all outstanding issues," GSK said in a statement.
"Patient safety is our first priority and we are confident in the safety of the influenza vaccines we have provided to patients. Every batch of GSK vaccines is subject to extensive review before it is released. Vaccines that do not pass this rigorous review are discarded."
Health Canada said it is aware of the issues identified by the FDA. "Seasonal flu vaccines on the market currently are not impacted by these manufacturing issues," a spokeswoman for Health Canada said in an email.
"The government maintains contracts for vaccine production with a number of other companies and can request additional supply if needed," the email said. Health Canada said it is working closely with the company and the FDA to determine the next steps.
Source: cbc news