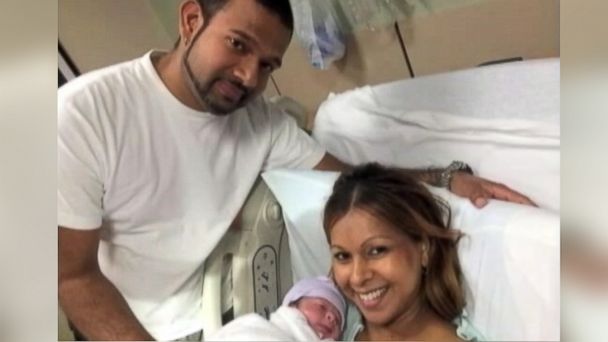 One Florida dad is arguing he had to deliver his wife's baby in a hospital – without a nurse or doctor present. But the hospital is disputing his claim.
According to a report, Zaheer Ali took his wife, Indira, to Bethesda Hospital East in Boynton Beach, Fla., late Saturday evening after she started experiencing contractions.  Once at the hospital, doctors felt that Indira's labor was stalling, so they put her on a
Pitocin drip to help increase her contractions.
As Indira's contractions began speeding up, another woman elsewhere in the hospital started having a complicated delivery and needed an emergency cesarean section. Indira's obstetrician, Dr. Elana Deutsch, said she ordered the Pitocin drip stopped so she could leave Indira to quickly perform the C-section.
But Zaheer said the baby was coming – with or without the Pitocin drip. "My wife was screaming," Zaheer Ali told . "The nurse says, 'You have to wait.' "
The nurse left the room to retrieve Deutsch, but by the time they came back, the baby had already been delivered. Deutsch said it must have happened very quickly, since it only took her 30 minutes to perform the C-section.
"The patient was obviously very upset. I was very upset," Deutsch said. "I think it was a new nurse, and I think she was nervous about being in the room alone."
Both Indira and her new baby Aaliyah are both healthy and doing fine, but the now father of three is not happy.
"The hospital is saying, 'Sorry,' but I just feel it's wrong," Zaheer Ali said. "It's a hospital. There are supposed to be nurses and midwives. A nurse should be there with you."
However, Bethesda Hospital East conducted an investigation of the incident, and Lisa Kronhaus, a spokeswoman for the hospital, claims the family wasn't alone after all. She said that hospital charts show that Aaliyah was indeed delivered by a nurse.
"There was a 1-to-1 ratio that night. The nurse did leave the room to tell the doctor she was ready to deliver. Mom made a noise. The nurse sitting outside of her room went in, checked her, and saw the baby started to crown, and nurse delivered the baby," Kronhaus told. "It's in the medical chart. It's legally documented."
Source: fox news