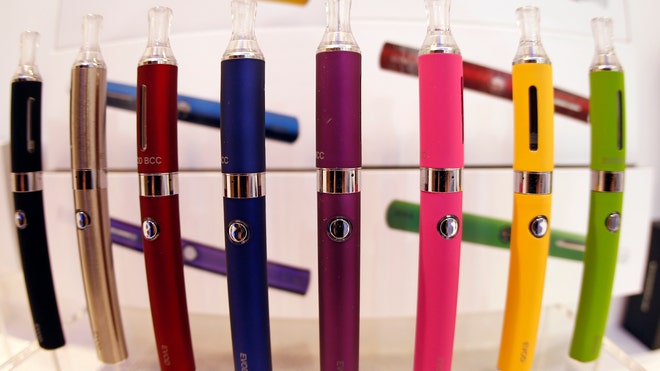 The Dutch Health Ministry sounded an early warning on Thursday about the possible health risks of electronic cigarettes, announcing plans to clamp down on labeling ahead of European regulations.
The move followed an analysis of existing scientific research by the National Institute for Public Health, the leading Dutch government health advisory body.
The institute said it was concerned about a lack of evidence on the possible health effects of e-cigarettes, and said that as a precaution, they should not be used by pregnant women or in the vicinity of children.
Some health experts say e-cigarettes—battery-powered metal tubes that turn nicotine-laced liquid into vapor—may be the answer to helping millions of smokers to quit cigarettes and thereby avoid the damaging health effects of smoke.
Smoking tobacco causes lung cancer and other chronic respiratory diseases and is a major contributor to cardiovascular disease, the world's number one killer.
Tobacco has an annual death toll of six million people, and the World Health Organization says that could exceed eight million by 2030 unless something urgent is done to stop people smoking.
All the top tobacco companies are investing in e-cigarettes, which some analysts have predicted may outsell conventional cigarettes in 10 years.
But they are far from universally accepted as a public health tool—with some critics worried they will not break nicotine addiction and may be a "gateway" to regular cigarettes—and the fast-growing market is largely unregulated.
The Dutch institute also recommended banning flavor and scent enhancers in e-cigarettes that contain nicotine because of concerns they may attract children to smoking.
Citing the institute's findings, Dutch deputy health minister Martin Van Rijn argued that e-cigarettes are as addictive as tobacco cigarettes because they contain nicotine, and he said there was no proof of claims by manufacturers that they help smokers quit.
"There is insufficient scientific evidence to be able to say whether the quantities of toxins in the exhaled air are dangerous for bystanders," Van Rijn wrote in a letter to parliament on Thursday.
"In advance of European regulations, I will take measures in national legislation in regard to advertising, safety, quality and labeling of e-cigarettes," the letter said.
Additional research will be conducted by the institute to learn more about e-cigarettes, the ministry said.
The warning came as Britain signaled it would force tobacco companies to scrap branded cigarette packaging on Thursday in an attempt to reduce the number of children who may be drawn to smoking by striking and brightly colored packs.
The Dutch institute raised concerns on its website last week that e-cigarettes are attractive to young people because of bright colors, flashing lights and jewelry-like appearance.
Roughly 11 to 18 percent of Dutch smokers have tried the e-cigarette, while about 5 percent said they use it regularly, the ministry said.
Market consultant Euromonitor estimates the world market for electronic cigarettes was more than $2 billion last year, with the United States accounting for a quarter of that.
A few countries have banned them outright—such as Brazil, Norway, and Singapore—while others are opting for varying degrees of regulation, in some cases including limits on advertising and curbs on their use in public places.
Big tobacco companies are grappling with declining sales of tobacco in a number of markets due to increasing government regulation and more health-aware consumers, as well as smuggling and an economic downturn.
Philip Morris International Inc, the maker of Marlboro cigarettes, said this month it plans to enter the e-cigarette market next year, saying it is the "greatest growth opportunity".
Imperial Tobacco Group plans to launch two electronic cigarettes in its new fiscal year.
Source: GMA