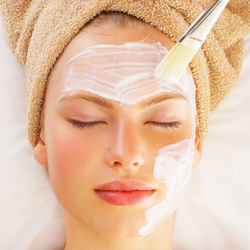 1- Determine what your there for before you go: relaxation or treatment
Just like a massage, there are varying types of facials- some that are geared towards pampering and relaxation, and some that are geared towards treatment of specific skin issues. Knowing ahead of time what your goals are for the experience will ensure that you get the best results, and that your skin therapist heads sown the right path. Relaxation treatments typically consist of a thorough cleansing, minor exfoliation, steamy hot towels, and luxurious masques. While treatment facials are comprised of stronger exfoliators that may sting or tingle, extractions of pimples and blackheads, and the use of agents that may cause peeling (the good kind of peeling that means new shiny skin is on the way!)
2- Don't book your facial on the eve of a big event
Facials often leave your skin a little red, especially if pimple extractions took place. [they are my favorite part… weird right?] Give yourself plenty of time to recover from any redness or peeling that may occur in the couple of days following your treatment. It's always better to be safe than sorry, so I recommend about 3-4 days after your facial for anything major such as a wedding or event. Your skin will still be glowy!
3- Speaking of GLOWY- shiny has a whole new meaning!
Post facial, you'll be squeaky clean like you've never been before! After several cleansings, hot towels, steam, and luxurious products- your skin will be completely free of any dirt, buildup or makeup. This means that when you walk out of the spa and back into the dressing room, you may not recognize yourself when you pass by a mirror. It's ok- many of the other spa patrons will be in your same boat. And while it is tempting to quickly apply your makeup to feel human again- I suggest you refrain as long as possible to give your skin a chance to really breathe, free from all that gunk. This means yes, you'll have to walk to your car with a bare face, and yes, your husband may look at you a little sideways- but if you can handle it… 12 hours sans makeup will do your skin some serious good!
4- A facial isn't just for the face
While the vast majority of the treatment concentrates on the face, the rest of your body gets some good vibes too! The facial includes work on the neck and upper chest area, called the decollate. It's all part of the body that needs to be cared for to help prevent aging, and to protect against the suns UV rays. So your therapist will continue the use of the steamy towels, masques, and lotions down on to your chest as part of the whole regimen. Beyond that your therapist will also offer a nice massage to the hands, head, shoulders or feet- usually while the treatment masques are working their magic on your face. It's incredibly relaxing and all around good for the body and soul.
5- The benefits of a facial go well beyond a clean face
Not only does your facial treat the skin, it also treats the systems in the body that provide nourishment to the skin and its cells. While I was earning my esthetics license, I became interested in the lymphatic system and its role in the bodies health. The lymph system resides just under the surface of the skin and can be triggered to carry toxins out of the body with touch. Facial, neck and chest massage trigger movement in the lymph system that in turn, increases blood flow, circulation, and healthy cell turn over. All of which have huge benefits for your over all health and appearance. Pretty amazing, right!?!
So, if your lacking some luster in your skin, struggling with fine lines or acne, or just need an hour away for some 'me-time'- I highly recommend you book yourself a facial. You won't regret it! Be sure you come back next week to learn about my at-home facial routine too.
Source: Beauty snoop