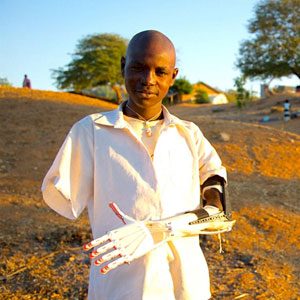 Daniel Omar was a 14-year-old tending his goats in war-torn Sudan when the dirty bomb landed, full of kerosene and nails. The explosion cost him more than just his arms. It took away his means of survival, his will to live.
But help would come from a most unlikely source. After reading a magazine article about Daniel's plight, American Mick Ebeling helped pull together a "dream team" of innovators to create a low-cost prosthetic arm using 3D printing technology.
The prosthesis can be produced in a matter of hours using plastic, screws, cables and bolts — about $100 worth of parts in total. With his new arm, Daniel is able to feed himself again, essential in an area where daily survival is a struggle.
Virtually no one in the area had used a 3D printer before Ebeling's team arrived in November 2013. Yet today, Daniel is printing arms for others, helping more of the region's 50,000 amputees get new limbs.
'Who is your Daniel'
Ebeling is the co-founder of the Not Impossible group. Its goal: to tell stories of health care innovation that will inspire people – maybe even you – to take action. "The question we ask is, 'Who is your Daniel?'" Ebeling told CBC in an interview. "What is the story you read, who is the person you know in your life?"
For Ebeling, his "Daniel" was a legendary L.A. graffiti artist named Tempt One, who suffers from ALS (Lou Gehrig's disease). It was 2009, and without the use of his limbs and most motor functions, Tempt could no longer make his art.
Tempt's brother pleaded for help. Ebeling decided he had to deliver, somehow, some way. He didn't have the technical expertise, but he did know some brilliant minds he could bring together to focus on the problem. Two weeks of caffeine-powered hacking later, a solution was born: the Eyewriter.
Hooked up to a pair of glasses, this inexpensive device tracks a user's eye movements using a webcam and translates them into objects on a screen. Tempt could draw again. And Ebeling had his a-ha moment. "After that, we're like, 'There's something here,'" he explained. "There's a nucleus of energy and we have to figure out how to channel this to do other things."
Not Impossible co-founder Elliot Kotek elaborated on the philosophy at a recent North by Northeast presentation in Toronto. "We're about technology for the sake of humanity," Kotek said. "We love tech … but we like to look at it through a different lens: How is this innovation going to help people?"
Something just clicked
Then in July 2013, Ebeling learned about the work of Dr. Tom Catena. Catena runs the Mother of Mercy hospital in the Nuba Mountains. He is the only physician in the disputed area in Sudan and South Sudan, and Daniel is his patient. Something just clicked. Ebeling had an inkling of how he might help Daniel.
He had recently learned of the work of Richard Van As, a South African who had created a prosthetic hand using 3D printing technology. A tougher question, though, was how to get the necessary supplies and technology into the middle of a war zone. Ebeling didn't have a clue. As with the Eyewriter, he set about pulling together a team that did.
"Like everything we tackle," Ebeling said, "we jump[ed] in, with the belief that we're going to make it not impossible."
Literally, there were bugs
"Not impossible" does not equal easy. For starters, the team wasn't sure where Daniel was or even if he was still alive. Luckily, Dr. Catena had relocated him among the 70,000 people at the Yida refugee camp.
Like baking a cake
The prosthetic the team designed was a remarkably low-tech device produced using 3D printing technology that, while not exactly new, has only become mainstream in the past few years.
Ebeling and Kotek say the process of printing the arms is as "easy as baking a cake." First, the parts are printed and assembled. (See below for more on how a 3D printer works.)
Then a piece of special plastic is moulded to fit the person's limb and the moving parts are attached to that. Cables are spooled through each digit. A motion of the elbow draws on the cables, which close and open the hand.
The design's simplicity means that if a part breaks, a new one can be printed. It also means the arms are now printed locally, long after the Americans have gone home. And that, says Ebeling, is one of the project's biggest successes.
Connecting inspired minds
Not Impossible wants to repeat the success of Project Daniel in other parts of the world – potentially launching 3D prosthetic labs in places like Sierra Leone, Nicaragua and Vietnam. They also want to inspire others to take up their own causes. One of the group's mottos is "Help one, help many," a virtuous cycle of innovation and inspiration.
To that end, they've created Not Impossible Now, a website that serves as a hub for people with a need and the sharp minds required to tackle the problem.
One project seeks to get an exoskeleton for a girl in Mexico to help her walk again. Another aims to help the deaf hear music. Not Impossible wants their legacy to be hundreds or thousands of innovations, all created by people who were connected by passion and inspired by stories like Daniel's.
"That," Ebeling said, "would be the true measure of success."
Source: cbc news