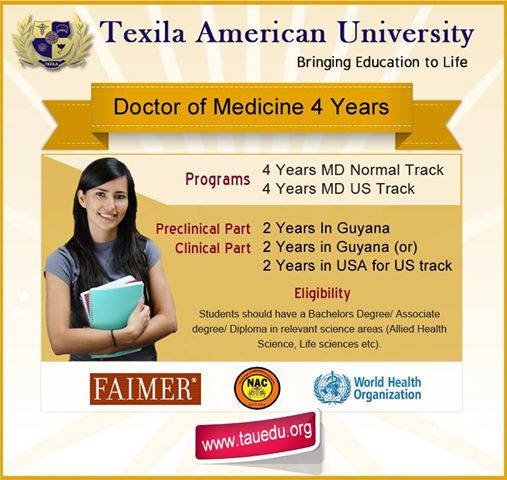 The Doctor of Medicine (MD) is a four-year full-time course designed for students who have completed their undergraduate studies with Science background. The curriculum is structured after the best US and Caribbean medical schools
About TAU:
Texila American University (TAU) , one of the best Caribbean Medical Schools is located in Guyana, the only English-speaking country in South America. TAU offers several Health Science programs with a high level of professionalism, exactness and problem solving skills. The University is committed to providing the best-in-class programs that facilitate further education and knowledge throughout their life.
The curriculum at the TAU is structured after the best US and Caribbean Medical Schools. The academic program is both accelerated and rigorous, with a focus on preparing students for licensure in the United States, Caribbean and India. The Program curriculum is designed to reinforce the enduring tenets of the practice of medicine and to ensure the ability of understanding and handling the changing demands of heath service in various fields of society.
To know more details please register here: http://www.tauedu.org/fb/signup.html
Watch TAU medicine Program: Video http://www.youtube.com/watch?feature=player_embedded&v=TWGYi9VPerk