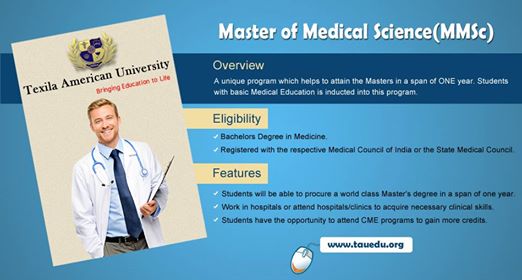 A unique program which helps to attain the Masters in a span of ONE year. Students with basic Medical Education is inducted into this program.
Eligibility:
Bachelors Degree in Medicine.
Registered with the respective Medical Council of India or the State Medical Council.
Salient Features
Students will be able to procure a world class Master's degree in a span of one year.
Work in hospitals or attend hospitals/clinics to acquire necessary clinical skills.
Students have the opportunity to attend CME programs to gain more credits.
Students are exposed to Article Reviews and Publications to understand the contemporary innovation and research in the concerned specialty.
Support to students by giving access to e-books of the concerned specialty.
Weekly MCQ's assessment are given, which would facilitate continuous learning.
Q and A Session to facilitate student faculty interaction
The MMSc programs are also offered in the form of diplomas for the students to get benefitted in various aspects.
For more details register here: http://www.tauedu.org/fb/signup.html
Watch our MMSc Program Video here: https://www.youtube.com/watch?v=Ly5pQPLTnO8