Everyone who knows me can vouch for my obsession with my raw brownies, I'm totally addicted! They're just amazing, and taste absolutely divine. However, these heavenly flavours aren't really the main reason why I'm so in love them, as I think all of my desserts taste heavenly – it's the fact that they only take 3 minutes to make and require absolutely no effort whatsoever. I have to admit though that since they're so easy and I'm so addicted I've definitely eaten a lifetimes worth in the past year! I was about to make them for the trillionth time a few weeks ago when I stopped myself and decided that as a chef I should really be a little more inventive and branch out a little to find another 3 minute treat, so I did and these little bowls of insanely creamy, totally chocolatey goodness were the result. Definitely a lesson in why I should branch out more!
I just can't tell you how awesome these are. I made six pots in my first batch thinking I'd stock of on a week's worth of treats end guess what… I ate them all in a row! Pot by pot. They were just too good, I simply could not resist. The combination of banana and avocado creates the creamiest consistency that just melts-in-your-mouth, which is enhanced the the almond butter's nutty goodness. The avocado's savoury nature is totally masked though by the sweet, caramel-esq nature of the medjool dates and the deeply rich, smooth cacao powder. So you'll get all of the avocado's goodness without making the dessert taste like salad! Trust me on this one, it's amazing even if it sounds a little weird! No one that's tried it yet has come close to guessing the creamy ingredients, so I promise you won't taste it either!
Of course you'll be getting buckets of goodness from each little dessert pot too – lots of fantastic plant protein form the almond butter, wonderfully anti-inflammatory fats and vitamins from the avocado, tons of heart healthy potassium from the banana, toxin preventing anti-oxidants from the super food cacao and all-important fibre from the dates. So you can eat as much dessert as you like knowing you're only eating spoonful after spoonful of goodness. A totally guilt-free pudding! How great is that?

Serves 2
– 2 really ripe bananas
– 1 ripe avocado
– 6 medjool dates
– 4 tablespoons of water
– 2 heaped teaspoons of almond butter
– 2 heaped teaspoons of raw cacao powder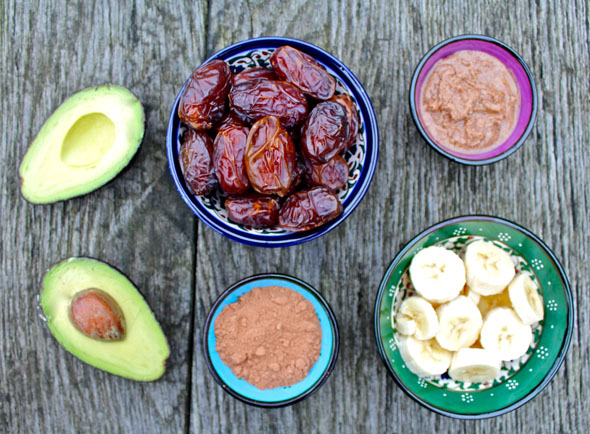 Optional
– a squeeze of agave
– a teaspoon of hemp protein powder
– a sprinkling of chia seeds
– a sprinkling of flax seeds
Simply put all the ingredients into a food processor – pit the dates first though – then blend into a smooth delicious mixture.
A blender will work for this but a food processor is a lot easier and quicker!
Keep chilled in the fridge until you're ready to enjoy!
Source: Deliciously Ella