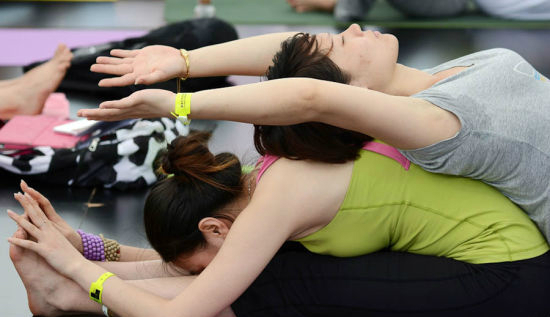 India will hold the biggest Yoga festival in China next week where the iconic Indian spiritual and physical art form has become a rage with millions of health-conscious Chinese making it part of their routine.
More than 1500 people are expected to take part in the Yoga Summit — the second such festival to be held in China in recent years — that will be held from July 7 to 12 at the picturesque city of Dali in Yunnan Province.
Indian Embassy and Indian Consulate in Guangzhou is organising the event as part of the ongoing year-long Glimpses of India festival being organised across China to expose the Chinese public to popular Indian ancient dance and art forms.
The Sangeet Natak Akadami dance troupe which is currently touring China is scheduled to perform at the festival. Geeta S Iyengar, daughter of the famous Yoga guru B K S Iyengar, along with 17 top Yoga exponents would take part in the event.
B K S Iyengar, who visited China in 2012, has become a popular ambassador of the art form among millions of Chinese practitioners and his works were widely translated into Mandarin.
The art form has become a rage with almost every gym across China having Yoga instructors. Specialised teaching centres like YogiYoga, run by Yoga exponent Mohan Singh Bhandari and Yinyan, a Chinese journalist who previously worked for Elle Magazine, trains over 8,000 would-be teachers.
Yoga is also considered as a million-dollar business in China where it is seen as a more of potent physical exercise. There is, however, criticism about the certification of teachers being churned out by many institutes.
The Yoga Summit which is being advertised all over China is expected to draw large audience, Indian officials said. Indian Ambassador Ashok K Kantha and top local Chinese officials were expected to take attend the festival.
Source: samachar