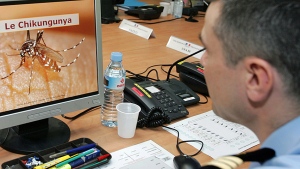 Guyana is reporting at least 12 more cases of a mosquito-borne virus that causes severe joint pain and fever for many of its victims.
Health Minister Bheri Ramsarran says the Caribbean Public Health Agency confirmed the new cases of chikungunya among 130 blood samples sent from the South American country.
The minister said late Wednesday that the infections occurred near the border with Suriname and about 32 kilometres from where the first two cases were documented last week.
The government is spraying pesticides to control the two species of mosquitoes that spread the virus.
The Pan American Health Organization reports more than 100,000 cases of chikungunya since the first locally transmitted case on the generally non-fatal virus in the Caribbean in French St. Martin in December.
On Thursday, the U.S. Centers for Disease Control and Prevention suggested local public health departments perform surveillance for chikungunya cases in returning travellers and be aware of the risk for possible local transmission in areas where Aedes species mosquitoes are active.
"Local transmission has been identified in 17 countries or territories in the Caribbean or South America (Anguilla, Antigua and Barbuda, British Virgin Islands, Dominica, Dominican Republic, French Guiana, Guadeloupe, Guyana, Haiti, Martinique, Puerto Rico, Saint Barthelemy, Saint Kitts and Nevis, Saint Lucia, Saint Martin, Saint Vincent and the Grenadines, and Saint Maarten)," the CDC's weekly report on illness and death said.
"As of May 30, 2014, a total of 103,018 suspected and 4,406 laboratory-confirmed chikungunya cases had been reported from these areas."
Source: cbc news