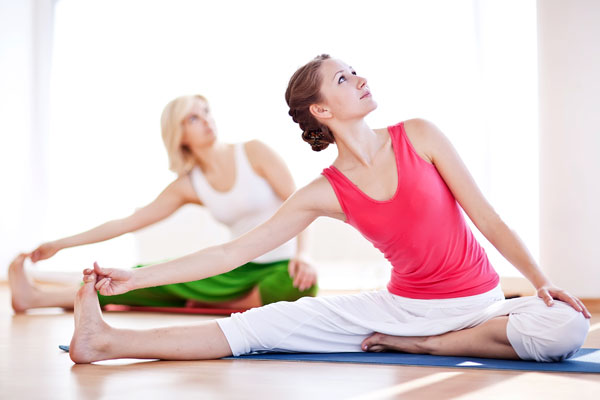 Obesity is a medical condition in which your body fat level is so high that it affects your quality of life negatively. Your energy levels drop, it affects your work, your body becomes a breeding ground for illnesses like diabetes, hypertension, thyroid disorder, osteoarthritis, and you begin to lose confidence due to which your self-esteem drops. As a result your general attitude towards life becomes pessimistic.
Therefore, obesity affects not just your physical health but also but also your mental health and hence the overall quality of life. Good news is that the obesity can be tackled with a proper diet and following a yogic lifestyle. Here are some steps you can take to beat obesity:
Take The Leap:
Practice asanas like Pascimottanasana, Bhujangasana, Ardha-sarvangasana , Ustrasana, Shavasana, Hasthapadanugushthasana and Gomukhasana to shed extra kilos. All these asanas work on every single muscle of your body and help in stretching, strengthening and toning your body.
Yoga asanas like the Uddiyana Bandha , help reduce excess fat around belly and Yogendra Pranayama IV and IX soothe your nervous system and helping you relax.
Make changes gradually. Don't try to do everything all at once. It will take longer to lose weight when you are following a correct weight loss plan, but you will be able to keep the weight off permanently. Don't give in to crash diets. They may get you quick results but not lasting ones.
Always set a realistic target. It is better to lose weight gradually rather than drastically. A drastic weight loss program results in loss of water and precious tissues from your body instead of fat. Aim to lose half a kilogram every week and not a drastic five kilograms a week. Success will come more easily and you are motivated to continue your efforts
Do not skip your meals, as you will eventually carve for unhealthy foods and binge on high calorie snacks. Eat your meals regularly while you are relaxed, do not hurry through your meal. This way, your body will absorb more nutrients.
Tips and tricks:
Most people have packed schedules at work and this leaves them with no time to exercise. However, there are some very simple tips that you can follow.
Take the stairs whenever possible instead of the elevator.
Park your car towards the rear of the parking lot to increase the distance you walk.
When taking a bus, taxi or subway, exit one stop before your destination and walk the remaining distance.
Take your pet for longer walks.
Indulge in a hobby like gardening or fix-it-yourself projects that require some amount of physical exercise.
Source: The health site