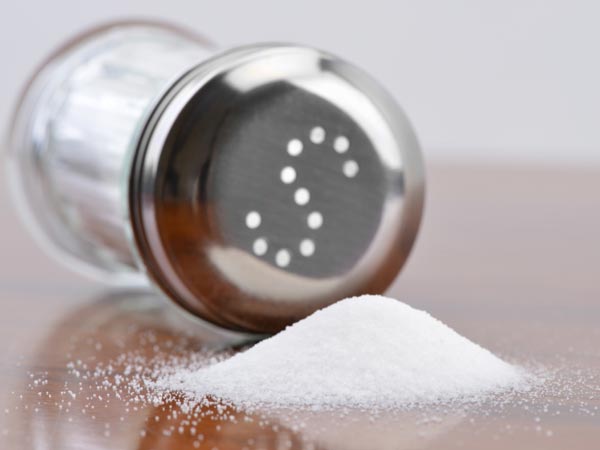 A diet loaded with salt is associated with double the risk of heart attack or stroke in people with type 2 diabetes. The risk skyrockets even higher among those whose diabetes isn't well-managed, a new Japanese study reports.
The study found that people with diabetes who consumed an average of 5.9 grams of sodium daily had double the risk of developing heart disease than those who consumed, on average, 2.8 grams of sodium daily. In addition, heart disease risk jumped nearly 10-fold for people with poorly managed type 2 diabetes and a diet with excess salt.
However, it's important to note that this study only found an association between salt intake and increased heart disease; the study wasn't designed to prove that the increased salt intake actually caused heart disease.
Still, experts believe it's important to limit salt in the diet.
"The findings are very important from a public health point of view," said Dr. Prakash Deedwania, chief of cardiology for the Veterans Administration Central California Health Care System and a professor at the University of California, San Francisco School of Medicine.
"Everyone's focused on controlling glucose [blood sugar] to prevent diabetes complications. Salt intake is not as well emphasized, but this shows it should be reduced as well," said Deedwania, a member of the American College of Cardiology's Prevention of Cardiovascular Disease Committee.
The study highlights the need for people with diabetes to track more than just carbohydrates when managing their daily diet, said Deedwania.
Public health officials previously have established a link between diabetes and heart disease. There are about 29 million Americans with diabetes, and they die from heart disease at a rate 1.7 times higher than people without diabetes, according to the U.S. Centers for Disease Control and Prevention (CDC).
Salt — also called sodium — is known to increase blood pressure, according to the American Heart Association. Accordingly, U.S. nutritional guidelines call for limits on salt intake. Because of the already increased risk of heart disease, people with diabetes should consume no more than 1,500 milligrams of sodium per day. People without diabetes should limit their sodium intake to 2,300 milligrams, the CDC says. In the current study, the lowest average was 2.8 grams a day, which equals 2,800 milligrams.
"This is something we have been touting with diabetes patients," said Dr. Spyros Mezitis, an endocrinologist at Lenox Hill Hospital in New York City. "Now we have more evidence to solidify our arguments."
The new study involved nearly 1,600 people, aged 40 to 70, participating in a nationwide study of diabetes complications in Japan. They responded to a survey about their diets, including salt intake, and researchers reviewed data on heart complications participants experienced over the course of eight years.
The investigators found no link between salt intake among diabetics and increased risk of kidney disease, diabetes-related eye problems or death.
Diabetes and salt have similar harmful effects on the cardiovascular system, Mezitis said. Both cause blood vessels to harden, and both increase the risk of blood clots that can cause a heart attack or stroke.
"Because the vascular complications of diabetes are similar to those of salt, that's where it becomes doubly as bad," he said. "The higher the salt intake, the worse the cardiovascular effects we see."
However, Mezitis cautioned that the study needs to be replicated in America. Japanese patients are not as heavy as Americans, they eat less salt, and they do not take as many cholesterol-lowering drugs.
The study also relied on people's own reports of salt intake, which could lead to some inaccuracy, said Dr. Robert Carey, a professor of endocrinology at the University of Virginia and spokesman for the Endocrine Society.
"I would not recommend any guideline changes based on this study, but I think this study strongly suggests there may be a relationship with cardiovascular disease and salt intake among diabetics," Carey said.
Source: health day