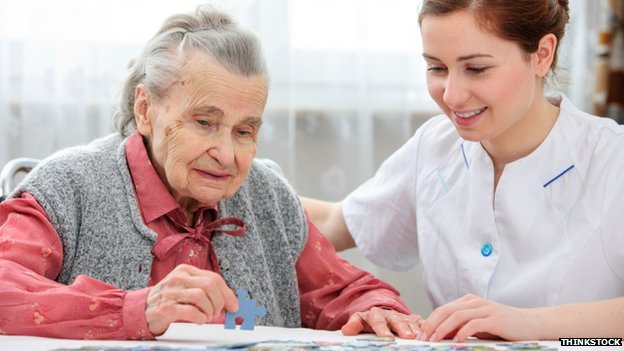 Progress on research and treatment for dementia has been "achingly slow", an expert says ahead of a London summit.
Dr Dennis Gillings said a pledge by G8 countries to find a cure or treatment by 2025 would be "impossible" without better incentives for investment. Dr Gillings, appointed world dementia envoy by UK PM David Cameron six month ago, called for faster and cheaper clinical trials for dementia drugs.
Hosting the event, the PM will call for a "big, bold global push" on dementia.
He is expected to pledge a new drive by the UK to discover new drugs and treatment for the condition, and a focus on how to bring forward specific proposals on patent extensions as well as how to give patients earlier access to new drugs.
Mr Cameron is expected to tell the summit: "In the UK alone there are around 800,000 people living with dementia, worldwide that number is 40m – and it is set to double every 20 years. "We have to fight to cure it. I know some people will say that it's not possible, but we have seen with cancer what medicine can achieve."
'Special case'
Six months since the UK hosted a G8 summit on the disease at which the 2025 target was set, the prime minister is speaking at a follow-up event in central London where he will commit to accelerating progress on dementia drugs.
Experts and health officials from other G8 countries are expected to attend. Dr Gillings warned: "Just as the world came together in the fight against HIV/AIDS, we need to free up regulation so that we can test ground-breaking new drugs.
"The amount of scrutiny by regulators is considerable, but there probably needs to be a special case made for dementia by regulators so they can help move things through more quickly…
"Simplify the clinical trials process or simplify the sort of data being demanded."
Source: bbc news