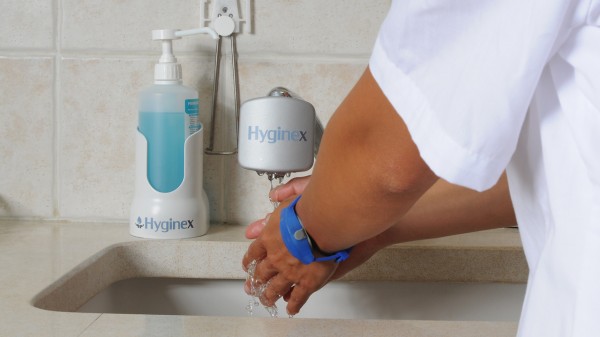 Hospital Acquired Infections (HAIs) are the leading cause of death after cancer and heart disease. Over 103,000 people in the US die every year due to HAIs. The Centre for Disease Control (CDC) estimates that over 5 million people lose their lives every year due to some form of HAI.
The World Health Organization (WHO) estimates that over 70 per cent of these lives could be saved if the Health Care Workers (HCWs) across the globe followed the prescribed hand hygiene guidelines. In spite of the established advantages of proper hand hygiene in healthcare settings, the compliance to prescribed guidelines is dismally low. Hand Hygiene Compliance (HHC) is barely 30 per cent in the US and around 35 per cent in Europe. The situation is much worse in the developing countries.
Hand hygiene is considered the primary measure to reduce the transmission of nosocomial pathogens. Non-compliance with hand hygiene, however, remains a major problem in hospitals. Within the hospital environment, preventing the spread of antibiotic resistant germs through good hand hygiene is critical.
To serve this purpose and make hand hygiene an easy and reliable process, a multidisciplinary team of an engineer, a product designer and a clinician has come up with a novel technology that could reduce possible chances of spread of infection via hand and could help reduce HAIs from the healthcare settings.
The new technology named 'Hansure' by Observe Design is a joint innovation of Aanan Khurma, an electronics engineer; Saurabh Bag, a product designer; and Agyeya Dwivedi, an occupational therapist.
Hansure is a wearable compact technology, composed of a hand disinfectant ensuring all time access to disinfection. The device carries a smart sensing technology that intimates HCWs at precise instants when they are required to sanitize their hands.
The device aims to empower healthcare workers to adhere to the WHO prescribed hand hygiene guidelines. These guidelines are difficult to follow in the existing scenario where multiple factors like lack of time, high inconvenience, forgetfulness and some negligence at play prevent HCWs from being 100 per cent compliant to hand hygiene guidelines.
Aanan Khurma, a part of the team and a consultant with the Stanford India Biodesign programme, told India Medical Times, "Our team has worked for several months at the ground level with HCWs in the All India Institute of Medical Sciences (AIIMS) to identify the fundamental causes of poor hand hygiene in healthcare settings. Our team found out that although WHO guidelines are flawless in preventing spread of infections, they are impossible to adhere to in the existing infrastructure."
"Our novel solution, Hansure, will ensure that no infections are ever spread through the hands of healthcare workers. We are working to empower healthcare workers rather than penalizing them. Apart from making hand hygiene convenient, our device also protects HCWs from posture related ailments, which affect 50 per cent of entire HCWs at some point or the other. Hansure tackles all these issues simultaneously ensuring that no opportunity for hand hygiene is ever missed by any healthcare worker. All this is done in accordance with the WHO guidelines," he added.
Most healthcare providers are taught to wash their hands before and after patient contact, however, measuring this accurately on a large scale is extremely difficult, if not impossible. The technology could save time of healthcare workers by as much as 65 per cent, which in turn increases productivity. It makes hand hygiene a convenient process for them and protects them from contracting infections besides preventing posture related problems. Moreover, it does not rely on monitoring, forcing, judging or penalizing.
In order to contain healthcare costs, preventative actions in patient safety are clear ways to decrease expenses. In the past, no one had quantified the value of preventative actions, such as hand hygiene, in decreasing healthcare costs. For administrators, the technology could decrease average hospital stay per patient and reduce expenditure on patient care. Low cases of negligence would further help in reduced legal hassles and brand building. Reduced financial burden on healthcare system would ultimately help in saving taxpayers' money. In a proper hand hygiene set up in hospitals, patients also feel relieved from the fear of contracting secondary infection when they visit a healthcare facility.
The traditional approach to increase compliance towards hand hygiene among HCWs has been to manually monitor them and penalize them for their non-compliance. Currently, methods to determine hand hygiene adherence include direct observation, product utilization, and reporting of hand hygiene activities, but these are subjective and unreliable.
Not only this technique is inherently flawed, it consumes numerous amounts of man-hours and does not significantly improve the compliance towards hand hygiene. Moreover, such monitoring creates a tense work environment in the healthcare setting where a management person monitors trained healthcare workers and then criticizes them for their behaviour.
Lately, there have been some new technologies in the area of hand hygiene like Mobile/Tablet based apps ZigBEE and RFID (radio-frequency identification) based monitoring solutions that aim to promote hand hygiene among healthcare workers.
Khurma said, "All these upcoming technologies are just trying to mimic the manual monitoring process. The only difference being that these new technologies are automating the process of monitoring, logging data and penalizing the healthcare workers. These systems require huge infrastructure changes, backend server installation, and manpower for backend data management and with so many components maintenance is frequently required. Our solution works to simplify the entire hand hygiene process rather than complicating it."
The innovators are the product of Stanford India Biodesign Programme, under which the fellows are trained to identify unmet medical needs and design new and cost effective devices to serve India's specific healthcare needs.
Source: India medical times